Text
Research priorities identified by decision-makers for IPCC Sixth Assessment Report
A stronger focus on 'solution-oriented content' is likely to be a core focus of the Sixth Assessment Report (AR6) of the Inter-governmental Panel on Climate Change (IPCC). A paper recently published in the journal Climate and Development outlines recommendations and priorities for ensuring the research base reflects climate risk management solutions of relevance to decision-makers.
The paper summarizes outputs of an International Conference on Climate Risk Management held in Nairobi, Kenya in April 2017 as part of the pre-scoping process for the IPCC AR6.   The conference was jointly convened by the IPCC and the Red Cross Red Crescent Climate Centre and engaged scientists, policymakers and practitioners from 32 countries in critical, constructive reflection on the knowledge base for climate risk management.
The IPCC does not conduct its own research but rather meets its mandate through assessing the existing published research.  It is crucial therefore, that the academic published literature includes research which reflects the decision-making needs of the most vulnerable, by the AR6 literature assessment cut-off date of 2020. 
Relevant climate information timescales were a key focus, including research on the current state of climate risk and how extreme events – and impacts -  have already changed.  The dynamic evolution of vulnerability and exposure was also emphasized, as was the governance structures of anticipatory and transformative adaptation.  Co-production of research agendas with practitioners and policy makers was stressed to ensure that diverse and implementation-focused knowledge is encompassed. 
Research priorities will help to inform identification of publications this week during the IPCC Pacific Engagement Meeting supported by SPREP and CSIRO in Melbourne.  A full list of research priorities identified during the Conference is available here.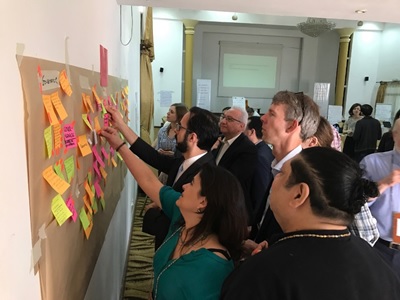 For questions, please contact Olivia Warrick, Senior Pacific Climate Adviser, Red Cross Red Crescent Climate Centre, [email protected].