Country Overview
Capital: Suva
Land: 18,272 sq km
EEZ: 1.26 million sq km
Population: 837,271 (2007)
Language: English, Fijian, Hindi
Currency: Fiji Dollar
Economy: Agriculture, clothing, fisheries, forestry, tourism and sugar
 
The Republic of Fiji is an island nation with an estimated population of 837,271 people (2007) and an annual population growth of 0.8%. There are an estimated 330 islands, of which approximately one third are inhabited. Fiji has a total land mass of 18,333 sq km, with Viti Levu (10,429 sq km) and Vanua Levu (5,556 sq km) constituting 87% of the total. The islands are characterized by diverse ecosystems including significant areas of natural forest. Wide ranges of coastal and marine ecosystems exist, ranging from extensive areas of mangroves to various coral formations. Fiji has an exclusive economic zone of 1.26 million square kilometres.
Fiji is composed of large mountainous islands, which are largely of volcanic origin, such as Viti Levu and Vanua Levu (which take up 87% of the total land area), and numerous small volcanic islands, low-lying atolls and elevated reefs. The largest islands have a diverse range of terrestrial ecosystems, including extensive areas of indigenous forest. The high islands have distinct wet and dry sides due to prevailing wind patterns. Coastal ecosystems include mangroves, algae and sea-grass beds in shallow reef and lagoon areas, and various reef types such as barrier, fringing platform and atoll or patch reefs.
Fiji has a mild tropical climate with plentiful rain under prevailing conditions. It is, however, subject to potentially catastrophic climate events such as cyclones, flooding and multiple landslips that can have a major impact on the economy and infrastructure. The predicted climate change and sea level rise could have profound consequences for some urban centers, agriculture and coastal development.
Fiji has one of the largest economies among Pacific Island Countries (PICs), and is one of the PICs least dependent on foreign aid. The Gross Domestic Product (GDP) of Fiji was US$3.78 billion in 2008, or US$3,900 per person. The GDP grew by 1.2% in 2008 after shrinking by 6.6% in 2007. Even though 70% of the Fijian workforce is in the agricultural sector, agriculture and industry together account for less than 25% of GDP. The rest comes from the service sector, mostly from tourism. Within the agricultural and industry sectors, sugar production and processing are by far the most important economic activities. Sugar processing makes up one-third of all industrial activity, and sugar is the country's primary export product. Other agricultural products produced in the country include coconuts, tapioca, rice, sweet potatoes, and bananas, but these are primarily used for domestic consumption.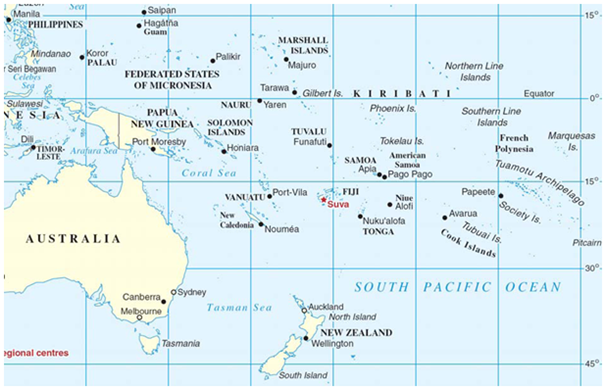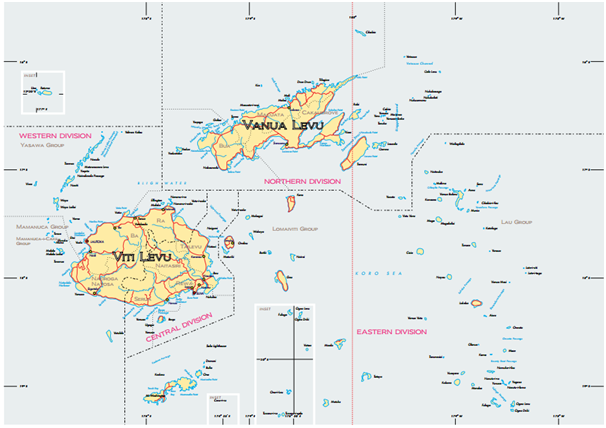 Date updated: March 2016
Fiji identified eight climate change priorities under its 2012 Policy outlined as objectives with a number of strategies to achieve these objectives and are summarised in the following areas:
| Priority Area | Objective |
| --- | --- |
| Mainstreaming | Integrate climate change issues in all national and sector policy and planning processes. |
| Data collection, storage and sharing | Collect, manage and use accurate and scientifically sound climate change-related data and information. |
| Awareness raising | Increase awareness and understanding of climate change-related issues across all sectors and at all levels in Fiji. |
| Education and training | Integrate climate change in school curricula, tertiary courses, and vocational, non-formal education and training programmes. |
| | Reduce the vulnerability and enhance the resilience of Fiji's communities to the impacts of climate change and disasters. |
| | Reduce Fiji's greenhouse gas emissions and implement initiatives to increase the sequestration and storage of greenhouse gases. |
| Financing | Ensure sustainable financing for climate change efforts. |
| International and Pacific region participation. | Effectively participate in and contribute to international and Pacific region climate change negotiations, discussions, commitments and outcomes. |
Date updated: March 2016
The People's Charter for Change, Peace and Progress (December 2008) serves as the umbrella framework for national development. The Roadmap for Democracy and Sustainable Socio-Economic Development 2009–2014 defines the implementation framework for the Charter. The National Climate Change Policy serves as an implementing tool for many of the strategies outlined in the Charter, such as:
environmental protection, sustainable management and utilisation of natural resources;

strengthening institutional capacity for environmental management; and

strengthening food security
Fiji ratified the United Nations Framework Convention on Climate Change (UNFCCC) in 1993 as a Non-Annex 1 Party and became legally compelled to adopt and implement policies and measures intended to adapt and to mitigate the effects of climate change.
 In 2012, Fiji endorsed its National Climate Change Policy facilitated by the NCCCT and guided by the NCCCC. The policy provides a platform for coordination among sectors, and direction on national positions and priorities regarding climate change mitigation and adaptation. The implementation framework of the policy has allowed Fiji to develop a Coordination guideline, Finance Guideline and Relocation Guideline that will enable the policy to achieve its goals in addressing climate change in Fiji.
The Climate Change Unit situated under the Ministry of Finance is responsible for delivering the National Climate Change Policy and co-ordinating climate change programmes and projects in Fiji. It acts as the secretariat of the Fiji National Climate Change Coordinating Committee (NCCCC) which comprises of Permanent Secretaries and senior officials of line ministries and is responsible for overseeing the coordination of Climate Change issues in Fiji. 
 The operational arm of the NCCC is the National Climate Change Country Team (NCCCT) which acts as the main platform for information sharing and climate change project progress reporting. The NCCCT is chaired by the Permanent Secretary for Foreign Affairs and International Cooperation and consists of representatives from a range of government agencies, non-governmental organisations and academic institutions.
Date updated: March 2016
Fiji's adaptation strategies are:
Date updated: March 2016
The annual and half-year maximum and minimum temperatures have been increasing at both Suva and Nadi Airport since 1942 with trends significant at the 5% level in all cases except Nadi Airport November–April maximum temperature. Minimum air temperature trends are greater than maximum air temperature trends. The annual numbers of cool days and cool nights have decreased and warm nights have increased at both sites. Warm days have increased at Suva. These temperature trends are consistent with global warming. Annual, half-year and extreme daily rainfall trends show little change at Suva and Nadi Airport since 1942.
Tropical cyclones affect Fiji mainly between November and April, and occasionally in October and May during El Niño years. An average of 28 cyclones per decade developed within or crossed Fiji's Exclusive Economic Zone (EEZ) between the 1969/70 and 2010/11 seasons. Twenty-five out of 78 (32%) tropical cyclones between the 1981/82 and 2010/11 seasons became severe events (Category 3 or stronger) in Fiji's EEZ. Available data are not suitable for assessing long-term trends. Wind-waves around Fiji are typically not large, with wave heights around 1.3 m year-round. Seasonally, waves are influenced by the trade winds, location of the South Pacific Convergence Zone (SPCZ), southern storms, and cyclones, and display little variability on inter-annual time scales with the El Niño–Southern Oscillation (ENSO) and Southern Annular Mode (SAM) (see Box 1). Available data are not suitable for assessing long-term trends.
Source: Australian Bureau of Meteorology and CSIRO (2014).
For the period to 2100, the latest global climate model (GCM) projections and climate science findings for Fiji indicate:
El Niño and La Niña events will continue to occur in the future (very high confidence), but there is little consensus on whether these events will change in intensity or frequency;

Annual mean temperatures and extremely high daily temperatures will continue to rise (very high confidence);

There is a range in model projections in mean rainfall, with the model average indicating little change in annual rainfall but an increase in the November–April season (low confidence), with more extreme rain events (high confidence);

The proportion of time in drought is projected to decrease slightly (low confidence);
Ocean acidification is expected to continue (very high confidence) and the risk of coral bleaching will increase in the future (very high confidence);

Sea level will continue to rise (very high confidence);

Wave height is projected to decrease across the Fiji area in the wet season, with a possible small increase in dry season wave heights (low confidence).
Source: Australian Bureau of Meteorology and CSIRO (2014).
Climate Information Services
The Fiji Meteorology Service provides the following climate information services for monitoring climate trends:
Monthly climate summary report (with seasonal forecasts)

Monthly rainfall outlook

Fiji Sugar Cane Rainfall Outlook (go to Fiji Sugar Cane Corporation)

Bulletin for renewable energy sector (hydro) – (go to Fiji Electricity Authority)
Date updated: March 2016
Knowledge Management & Education
Fiji's Education Sector Strategic Plan (ESSP) 2012-2014, aims to provide a "holistic and empowering education system that enables all children to realise and appreciate fully their inheritance and potential contributing to peaceful and sustainable national development." In the current curriculum elements of climate change are addressed in basic science (form 3 and 4), biology (form 6 and 7), physics (form 6 and 7) and geography (form 6 and 7) in secondary education. In Technical and Vocational Education and Training (TVET) environmental changes are addressed in agricultural science (form 3 to 7). However, in Nadi, September 2011, the Fiji Ministry of Education, National Heritage, Culture & Arts identified the need to strengthen existing learning outcomes and education materials and conduct national consultations to ensure learning is sufficient to adequately increase students' capacities to deal with climate change impacts and to reduce greenhouse gas emissions.
Achievements:
In 2012 the Ministry of Education endorsed a strategy to implement Objective 4 on Training and Education from the NCCP (2012) and prior work plans aiming at integrating climate change in school curricula, tertiary courses, and vocational, non-formal education and training programmes (including Special Education Schools).
The Curriculum Development Unit is chairing a new national sub-working group on climate change training and education under the Climate Change Unit, Ministry of Foreign Affairs and Immigration.
Through a series of workshops curriculum development officers have strengthened and integrated relevant content and learning outcomes on climate change and disaster risk management in Basic and Social Science, Geography, Agriculture, Industrial Arts and Home Economics. The key concepts will be introduced in classes 7 and 8.

Based on a stocktake of existing and utilized teaching and awareness resources the children story book 'Pou and Miri' has been identified as a useful teaching resource and has been handed over to the Ministry to distribute to all Fijian primary schools (in English and VosaVakaViti).

An environmental alphabet poster has been developed with the Ministry of Education and NatureFiji-MareqetiViti for all primary school children, showing native animals and plants.
Provision of existing education and awareness materials relating to climate change and disaster riskmanagement of various agencies on the national climate change web-portal.
Integrate new climate change and disaster risk management relevant curriculum elements into the national teacher pre- and in-service training.
Training of lecturers and teachers on the use of the 'Picture-based outreach toolkit on climate change'.[3]
For additional information on knowledge management and education on climate change, visit the department and project websites listed below:
Date updated: March 2016
Fiji's mitigation strategies are:
Develop joint programmes and cooperation agreements between relevant sectors to reduce and avoid greenhouse gas (GHG) emissions.
Develop and implement national, industrial, commercial (such as the tourism, agriculture and mining sectors) and household energy efficiency programmes, including provision of rebates, incentives and disincentives.
Assess and utilise appropriate renewable energy sources, such as wave, tidal, solar, wind, hydro, geothermal, biofuel and biomass.
Support the implementation of the Fiji REDD-Plus Policy, the Fiji Biodiversity Strategy and Action Plan, the National Air Pollution Control Strategy, the Ozone Depleting Substances Decree, the National Energy Policy, the Clean Development Mechanism Policy Guideline and other relevant national polices and strategies on the reduction of GH emissions, deforestation, forest degradation and the enhancement of forest carbon stocks.
Access international financing instruments to support renewable energy, energy efficiency, waste management and carbon trading initiatives.

Control and reduce emissions from existing private and public vehicles.

Control the ages of imported and second-hand vehicles and introduce alternative fuel powered vehicles.

Develop activities and infrastructure that promote the reduction and avoidance of fossil fuel consumption (for example, construct proper walking and cycling lanes).
Support the enforcement of legislation on open burning in residential and commercial locations, as stated by the Environment Management Act (2005).

Formalise collaboration arrangements and commitments of members of committees working in the area of climate change mitigation, such as the Carbon Trading Technical Team, and the Fiji REDD-Plus Steering Committee.
One project that is currently under implementation and is the EU Adapting to Climate Change and Sustainable Energy.
Government of Fiji Rural Electrification Programme
DOE's 2008 Business Plan has over forty activities. Of the 40 activities, 15 are renewable energy activities with a total budget of FJD2 million. These are the co-financing activities in Fiji and include the following:
For addition information go to website of the following:
Formulation of Net-Metering Policy Framework
The Fiji Electricity Authority (FEA) - the only state owned electricity utility in Fiji - is keen to buy electricity from grid-connected systems through net-metering, and has the necessary legislation in place to do so.
This project was announced by FEA's Chief Information Officer, Mr AnandNanjangud, during the Small Developing Island Renewable Energy Knowledge and Technology Transfer Network-Project DIREKT-organised workshop held at the University of the South Pacific on 16 March 2012.
The workshop focused on the economics, application and legislation relating to renewable energy and was attended by 55 participants from four government departments, three regional agencies, the private sector and members of the public.
The workshop also looked at evaluating the economics of the use of solar PV systems, and the steps that would be required to facilitate the installation and use of grid-connected PV systems in Fiji.
For additional information and contacts, visit the websites listed below or contact the national focal points
Date updated: March 2016
References
Date updated: March 2016