Text
In 2019, stakeholders and development partners will be able to access climate change information for Tuvalu through the Tuvalu Climate Change Portal. The portal is currently being developed through a partnership between the Tuvalu Climate Change Policy and Disaster Coordination Unit (CCPDCU) and the Pacific iCLIM project.
The Pacific iCLIM team with representatives from SPREP and Griffith University were in Tuvalu from the 9th to the 12th of October for capacity building activities with the CCPDCU in relation to the national climate change portal.
The two day training was aimed at content managers and system administrators to have the capacity to maintain their national climate change portal. During the training, content managers were trained on the key features of the Tuvalu national portal prototype and uploading and maintaining content. Furthermore, the systems administrators were trained on the Drupal software, in particular writing code and carrying out routine updates and maintenance of the national portal.
"The portal development is very timely and will enable CCPDCU to keep stakeholders informed of activities related to climate change" stated Ms. Pepetua Latasi, Director CCPDCU at the opening of the workshop.
The training was attended by representatives from the CCPDCU, Government ICT, Ministry of Finance and various ministries. The portal is scheduled to be launched in 2019.
During this mission the team also paid a courtesy visit to the National Library and Department of Environment Library
The Pacific iCLIM project is a DFAT funded project jointly implemented by SPREP and Griffith University.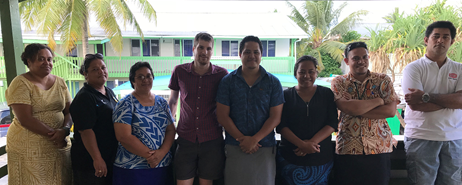 SPREP team with participants
For more information, please contact: Makelesi Gonelevu ([email protected]).