Text
The vast experience and expertise of the Secretariat of the Pacific Regional Environment Programme (SPREP) at the negotiations and meetings of the United Nations Framework for the Convention on Climate Change (UNFCCC) was found to be helpful at a Climate Change Negotiation Skills for Pacific islands women.
Participants from nine island nations attended, including Cook Islands, Fiji, Kiribati, Nauru, Papua New Guinea, Republic of Marshall Islands, Samoa, Tonga and Tuvalu. The workshop was held at the Pacific Island Forum Secretariat and focused on issues that included how small island states can utilise the United Nations system, the science of climate change itself, pacific gender and social issues, and the principles of effective negotiation. 
"Acting Secretary General of the Pacific Islands Forum Secretariat, Ms Andie Fong Toy said "Climate change and gender equality are both key priorities for the Pacific, and workshops like this are invaluable as our region prepares for important negotiations at the UN General Assembly in September and the COP22 Conference in Marrakesh in November."
"SPREP has led many workshops of this nature and were pleased to be invited to this particular one as a resource person in this training as we were one of two resource people attending that were able to provide the practical understanding of what actually happens at the UNFCCC negotiations based on our experience," said Ms. Diane McFadzien, the Climate Change Adaptation Adviser of SPREP.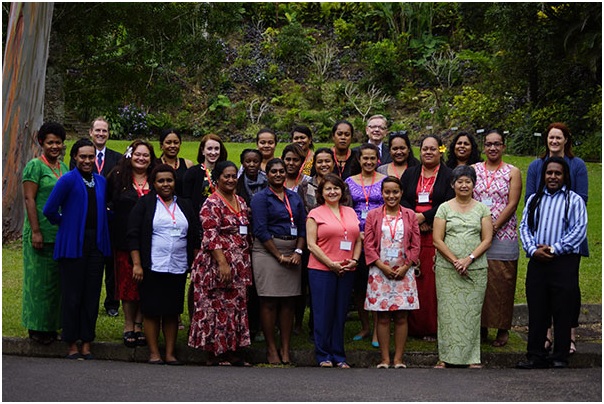 "As it stands the role of Pacific island women at these negotiations is a strong one with many Pacific island delegations containing active negotiators – for example the Cook Islands delegation is often made up of 90% women and is often led by a woman; Palau as a woman as their Climate Change Ambassador, the lead negotiators and Head of the Alliance of Small Island States when led by Nauru were all roles undertaken by women, it is women from Samoa and Tuvalu that play chairing roles within UNFCCC established groups, and we even have a Pacific island woman who is a lead author in the 5th Annual Report of the Inter- governmental Panel on Climate Change, in particular the chapter on SIDS.  Having this type of training we just completed helps to reinforce the strong role of Pacific women at the negotiating table."
The workshop was a joint project between the Australian National University's Asia Pacific College of Diplomacy and the Pacific Islands Forum Secretariat with support from the Australian Department of Foreign Affairs and Trade. Technical assistance was provided by SPREP, UN Women, and the University of the South Pacific.
The participants were drawn from government departments and civil society. Several represented their governments at the COP21 negotiations in Paris in 2015. The facilitators were Professor Howard Bamsey and Dr Jeremy Farrell, who both have extensive experience with the UN system and international negotiations. –Adapted from a PIFS Release #4PacIslands
The original news item can be found at: http://www.forumsec.org/pages.cfm/newsroom/press-statements/2016-media-releases/climate-change-negotiation-skills-for-pacific-island-women.html
Cook Islands
Kiribati
Nauru
Papua New Guinea
Marshall Islands
Tonga
Tuvalu