Country Overview
Capital: Rarotonga
Land: 240 sq km
EEZ: 1.8 million sq km
Population: 19,569 (2006)
Language: Cook Islands Maori, English
Currency: New Zealand Dollar, Cook Islands coins
Economy: Agriculture, black pearl industry, offshore banking and tourism
Cook Islands are made up of 15 islands, with the high volcanic island of Rarotonga the centre of government and commerce. Geographically and, to a certain extent culturally, the nation is divided into two groups: the southern group, comprising the islands of Aitutaki, Atiu, Mangaia, Mauke, Mitiaro, Rarotonga, Manuae (an uninhabited atoll) and Takutea (an uninhabited sand cay); and the northern group, comprising the islands of Manihiki, Palmerston, Penrhyn, Pukapuka, Suwarrow (atolls) and Nassau, which are relatively isolated and less developed.
Cook Islands is a self-governing, parliamentary, representative democracy within a constitutional monarchy in free association with New Zealand. Under the terms of the free association, Cook Islanders hold New Zealand citizenship (there is no Cook Islands citizenship) and enjoy the right of free access to New Zealand. New Zealand retains some responsibility for external affairs in consultation with Cook Islands, although in recent times Cook Islands has adopted an increasingly independent foreign policy and has diplomatic relations in its own name with 21 countries and international organisations.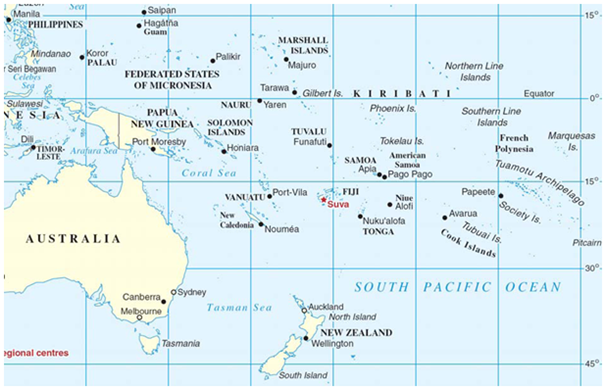 Figure 1 Source: Taken from Map No. 3974 Rev. 15 (Economic and Social Commission for Asia and the Pacific), United Nations, July 2007.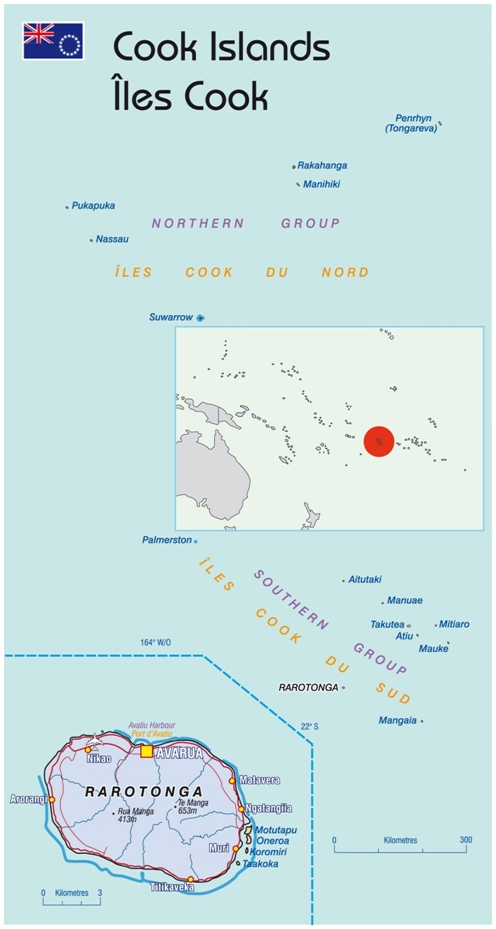 Date updated: March 2016
The NSDP strategies are national priorities and all sector and government agencies planning is aligned to these strategies.  The NSDP has 8 key goals that seek to address the 5 Strategic Outcomes in Te Kaveinga Nui. While none of the Strategic Goals explicitly reference climate change; several references are cross cutting across the goals.  The strategies under Priority Area 5 (resilience) of the National Sustainable Development Plan (NSDP) 2011–2015 address responses to climate change and disaster risk management as follows:
Ensure strong governance arrangements for disaster risk management and climate change adaptation
Ensure that high quality risk information is available to inform planning and implementation
Build resilience through effective disaster risk reduction and climate change adaptation
The C&DCDP strategic (priority) outcomes are:
Increased community preparedness and adaptation to risks and impacts
Effective and sustainable use of land, sea, and natural resources
Safeguarded biodiversity and ecosystems
Reduced greenhouse gas emissions
Reduced reliance on fossil fuels
Improved energy security
Enhanced coordination and strengthened implementation through integrated institutional and implementing arrangements across communities and sectors.
As guiding documents to the JNAP, the NESAF and the Second National Communication to the UNFCCC provides a strategic goal and a number of pertinent sector-based adaptation needs and priorities respectively. These are summarised in the table below.
The Cook  Islands  Joint  National  Action  Plan  (JNAP)  for  Disaster  Risk Management  and  Climate  Change  Adaptation  is  aligned  to  the  National  Sustainable Development  Plan  (NSDP),  the  Medium  Term  Budgeting  Framework  (MTBF),  the  Disaster  Risk Management  Act  2007, and  its  associated  regulations  and  arrangements including the Cyclone Recovery Reconstruction Plan (CRRP), the Preventative  Infrastructure Master  Plan  (PIMP),  the  National Environment  Strategic  Action Framework  (NESAF),  and  the Second  National  Communication report  to  the  UNFCCC[1]. 
The 2011-2015 JNAP vision is 'a Safe, Resilient, and Sustainable Cook Islands' outlines four strategic areas:
A preliminary review of the 2011-2015 JNAP was carried out in early 2014 and concluded that the majority of actions are in the implementation stage while some actions will be ongoing beyond the shelf life of the JNAP, especially those related to capacity building and education, and awareness.
With respect to disaster  risk management,  the  JNAP  identifies priorities  and  actions  to  facilitate the  effective  implementation of existing DRM legislation  as well as aligning to the Hyogo framework. In 2005 the Cook Island Government developed a Disaster Risk Management Policy which takes an 'all hazards', integrated and 'whole of government', 'whole of country' approach to disaster risk reduction and disaster management. The policy states that formal processes of risk management are to be applied in all aspects of national development planning in order to reduce the underlying risks created by changing social, economic, environmental conditions and resource use, and the impact of hazards, including those associated with climate variability, climate change and extreme weather events.
The priorities under each strategic area of the JNAP is summarised as follows:
All links and information can be found by visiting and searching on the simple Cook Islands Government Search engine portal: http://www.cook-islands.gov.ck/
Date updated: March 2016
---
The Ministry of Foreign Affairs and Immigration (MFAI) is the political focal point for climate change, disaster risk management and development. In 2011 Climate Change Cook Islands (CCCI) as a division of the Office of the Prime Minister (OPM) was established and signalled the transfer of the operational focal point functions from the National Environment Services (NES).  All international, regional and national climate change matters are managed, overseen and coordinated by CCCI.  Disaster risk reduction matters are coordinated by Emergency Management Cook Islands (EMCI) as legislated by the 2007 Disaster Risk Management Act.  The Central Planning and Policy Division (CPPO) is mandated to oversee the implementation of development priorities.  Advice and information on progress is currently provided to Cabinet on C&DCD related outcomes by these divisions through the National Sustainable Development Commission (NSDC) and the minister. As portfolios of the Prime Minster, these divisions along with the Office of the Energy Commissioner and Renewable Energy Development Division form a central policy and planning hub in addressing climate and disaster risks to Development.
Cook Islands has broadened its Climate Change Country Team (CCCT) to include members of the DRM community in what is now renamed the National CC  and DRM Platform. The Platform is a multi-stakeholder forum that operates to share information and unite around related policy and programmes of action as an 'all of country' approach.  It provides CCCI and EMCI a setting to communicate with stakeholders but it also provides for prospective collaboration with stakeholders through the CC funding schemes and the JNAP's activities[1].
Cook Islands development plans, policies and strategies established at the national levels to address climate chane are provided in brief below.  These guide governance decisions at the national and local (pa enua) levels and are listed in the List of Publications, Links and References tab pages. A summary of each of these are provided below.
The Cook Islands National Sustainable Development Plan (NSDP 2011-2015) and its 20 year vision - Te Kaveinga Nui (TKN) is "To enjoy the highest quality of life consistent with the aspirations of our people, and in harmony with our culture and environment".  Like many countries, there is limited documented evidence of frameworks that integrate CC, disasters and development.  Cook Islands TKN and the NSDP as the basis of development planning will be framed to address climate change and disaster using a climate change and disaster policy framework. This considers  'development  that  minimizes  the  harm  caused  by  climate  impacts  while  maximizing  the many  human  development  opportunities  presented  by  low  emissions,  more  resilient  future.'[2]  Three goals of the NSDP will be met when challenges of climate change and disaster risk management are addressed:
Goal 4: "Sustainable use and management of our environment and natural resources"
Goal 5 "Strengthened and affordable basic infrastructure, transport and utilities to support national development"; and
Goal 6 "A safe secure and resilient community"
The NSDP is aligned with the nation's regional and international commitments such as the Pacific Plan, the Sustainable Development Goals, the S.A.M.O.A. Pathway and other multi-lateral environmental agreements such as the UN Framework Convention on Climate Change, the Convention on Biological Diversity, and the United Nations Convention on Combating Desertification among others.
In 2013, Cook Islands completed an assessment of its climate change policy and recommended the endorsement of a Climate & Disaster Compatible Development Policy 2013 – 2016 (C&DCDP).  The Policy was endorsed in August 2013 and its overarching statement is to 'ensure that the sustainable development of the Cook Islands is actively pursued by (the) people through a climate and disaster resilient approach that has the capacity to manage climate and disaster risks and reduce emissions in the context of sustainable development'.  The Policy serves to connect the overarching strategies of the NSDP 2011-2015 and Medium term Budget Framework to a range of existing development, climate and disaster related policies an plans.  It also serves to provide direction to new policy, planning and budgetary tools available to the government and its partners seeking to build upon or incorporate the directions set out in this policy.
The National Environment Strategic Action Framework 2013–2016 (NESAF) is mandated by the Environment Act 2003 and is a key document for the environmental sector including climate change. NESAF is currently in draft form.  The NESAF Target Programme 3 has the Strategic Goal of: "Increasing Resilience by strengthening national capacities for climate change, variability, adaptation and mitigation". The NESAF and Second National Communication to the UNFCCC are guiding documents for Cook Islands Joint National Action Plan (JNAP) which focuses primarily on CC adaptation and DRM measures. For a diagrammatic presentation of these measures refer to page 16 and 19 of the Cook Islands 2012 Disaster Risk Management & Climate Change Adaptation Joint National Action Plan (2012 JNAP).  The 2016-2019 JNAP is in draft form.
Date updated: March 2016
The adaptation priorities outlined under the JNAP, namely strengthening infrastructure and safeguard essential services taking into account current and anticipated climate changes; and strengthening economic development and livelihood systems in key sectors, increasing resilience to disasters and climate change; has been progressed by a number of lead government agencies with the exception of a few strategic outcome yet to commence. www.mfem.gov.ck
Building the resilience of the coastal sector has been through strengthening and climate-proofing of key infrastructure in the coastal zone.  The Ministry of Infrastructure Planning, now Infrastructure Cook Islands (ICI) implemented the Pacific Adaptation to Climate Change (PACC) to demonstrate a climate proof harbour. For more information on the PACC project, search PACC or visit www.sprep.org/pacc
The Office of the Prime Minister is implementing the "Strengthening the Resilience of Our Islands and Our Communities to Climate Change" (SRIC-CC) project with the view to  strengthening  and  implementing  relevant  policies,  support  activities  and implementation  of  relevant  aspects  of  the  Community  Sustainable  Development  Plans  for  each  Pa Enua (outer  islands).  Other activities of the SRIC-CC programme include mainstreaming activities that focus on incorporating climate change adaptation (CCA) and disaster risk reduction (DRR) into relevant policies and plans, as well as synergies with mitigation of greenhouse gas (GHG) emissions. One of the outputs is the 2013 Cook Islands Climate Change Assessment Report. www.mfem.gov.ck
In water security, ICI has also been leading in projects and programs promoting long term water security for all islands to cope with prolonged dry spells, and longer term climate impacts, strengthening sanitation infrastructure to address health and environmental risks on all islands, including risks related to climate change. www.ici.gov.ck
Cook Islands, however, is yet to progress in programs and projects that strengthen and adapt energy transportation, supply and storage systems in the outer islands to reduce risks to the communities. In view of strengthening economic development, Cook Islands have yet to invest in increasing the resilience in the tourism sector and reducing its vulnerability as well as reducing the ecological footprint and negative impact of hotels and resorts on the environment.
The Ministry of Agriculture are implementing projects that promote agricultural livelihood resilience and food security in the context of climate change with the view to attain a better prepared and more climate resilient island communities. www.agriculture.gov.ck
The Ministry of Health have also commenced on strengthening systems for preventative health care and research including on climate change impacts and adaptation. The expected result is the Cook Island Health care system recognises and prepares communities for the health impacts of changing climate and disease patterns.  www.health.gov.ck
The Ministry of Marine Resources are working with partners to carry out adaptation projects that strengthen and build resilience in the fisheries sector, with climate change considerations.  The goal is that the fisheries sector is resilient and be able to manage its fisheries and marine ecosystems to be able to adapt to climate change. www.mmr.gov.ck
In the area of protecting and conserving the environment through an ecosystems based adaptation approach, the National Environment Services (NES) have been implementing climate change adaptation projects that improve the conservation and management of biodiversity in a changing climate. The idea is that growing and accelerating threats to biodiversity induced by climate change are understood and planned for. www.environment.gov.ck
Date updated: March 2016
According to the most recent climate science report for the Cook Islands, the country's current climate shows that warming trends are evident in annual and half-year maximum and minimum air temperatures at Rarotonga (Southern Cook Islands) for the period 1934–2011. For the period 1941–1991 there was no trend in annual mean temperature at Penrhyn (Northern Cook Islands).  The annual number of warm days and warm nights from 1935 increased at Rarotonga, while the number of cold nights has decreased. 
The annual and half-year rainfall trends show little change at Rarotonga since 1899 and Penrhyn since 1937. There has also been little change in extreme daily rainfall at both sites since the mid-1930s.
Tropical cyclones affect the Cook Islands mainly between November and April. An average of 18 cyclones per decade developed within or crossed the Cook Islands Exclusive Economic Zone (EEZ) between the 1969/70 and 2010/11 seasons. Tropical cyclones were most frequent in El Niño years (28 cyclones per decade) and least frequent in La Niña years (6 cyclones per decade). Seventeen of the 53 tropical cyclones (32%) between the 1981/82 and 2010/11 seasons became severe events (Category 3 or higher) within the Cook Islands EEZ. Available data are not suitable for assessing long-term trends.
Wind-waves in the Cook Islands are dominated by trade winds and the South Pacific Convergence Zone (SPCZ) seasonally, and the El Niño–Southern Oscillation (ENSO) and Southern Annular Mode (SAM) inter annually. Larger storm waves are seen in the Southern Cook Islands than in the Northern Cook Islands.
Source: Australian Bureau of Meteorology and CSIRO, 2014.
For the period to 2100, the latest global climate model (GCM) projections and climate science findings indicate that for the Cook Islands:
El Niño and La Niña events will continue to occur in the future (very high confidence), but there is little consensus on whether these events will change in intensity or frequency;
Annual mean temperatures and extremely high daily temperatures will continue to rise (very high confidence);
Average annual rainfall is projected to stay similar to the current climate, except for a small decrease in May–October in the Northern Cook Islands under the high emission scenario (medium confidence), with more extreme rain events (high confidence);
Drought frequency is projected to remain similar to the current climate in the Southern Cook Islands, but increase slightly in the Northern Cook Islands under the high emission scenario (medium confidence);
Ocean acidification is expected to continue (very high confidence) and the risk of coral bleaching is expected to increase (very high confidence);
Sea level will continue to rise(very high confidence); and wave climate is not projected to change significantly (low confidence).
Source: Australian Bureau of Meteorology and CSIRO, 2014.
For more information, go to http://www.pacificclimatechangescience.org
Date updated: March 2016
Knowledge Management & Education
The Cook Islands Curriculum Framework (July 2002) establishes the policy for learning and assessment in all Cook Islands schools.  The official curriculum for science learning and teaching of Cook Islands Schools is the 2006 'Science in the Cook Islands Curriculum. Science is designated as one of the eight essential learning areas in the Curriculum Framework. The new Science Curriculum is modern in its approach in that it emphasises relevancy in learning and in application of learning.  Climate Change falls under one of four contextual strands of the curriculum, namely the Enua e te Rangi (Earth and Sky).
A number of 'possible learning and assessment activities' addressed within this context that are relevant to climate change include:
Doing a beach study to investigate the effects of storms, wave actions etc.
Investigating the debate on climate change.
On a map, mark in the ocean currents and prevailing winds and discuss with reference to migration across the Pacific.
Talk about the stories relating to the formation of your island and draw the landscape features on a map[1].
The National Environment Service provides services and information to school such as talks and awareness materials (videos and books).  It provides classroom talks and answers emails and faxes and covers key topics that include climate change, clean water, biodiversity, conservation and pollution.   The Met Office supplies weather data, maps, etc. and professional support for teachers developing weather based units and other resources on Climate Change[2]
Cook Island's PACC project has also produced a number of knowledge management products designed specifically for knowledge management objectives.  This is to ensure that PACC generated knowledge and information assets are identified, captured, evaluated, retrieved, and shared.  The knowledge products generated out of the project for Cook Islands include:
For more information go to: http://www.education.gov.ck/.   Please refer to the List of Publications, Links and References tabs for more direct links.
Date updated: March 2016
Cook Islands National Energy Policy Vision 2005 is 'working together with the people in building a better nation'. The Cook Islands Country Energy Security Indicator Profile 2009 shows 66,939 tonnes of CO2 of carbon footprint. This figure, however, is an indication of the total GHG emissions using embedded carbon as a measure(UNFCCC method). Based on Cook Islands 2nd national communication report in 2006, Cook Islands produced 55,075 tonnes CO2 .
The island nation boasts one of the highest rates of electrification (97%), access to modern energy in the rural areas (92%) and access to modern energy in the urban areas (100%) relative to the average rates of these benefits in Small Island States in the Pacific.
The Pacific Islands Greenhouse Gas Abatement through Renewable Energy Project (PIGGAREP) is the main climate change mitigation activity in the Pacific.  It is aimed at reducing the growth rate of GHG emissions from fossil fuel use through the widespread and cost effective use of their renewable (RE) resources in ten participating Pacific island countries including the Cooks.  It consists of various activities whose outputs contribute to the removal of the major barriers to the widespread utilization of RE technologies (RETs)[1].
The PIGGAREP activities identified for the Cook Islands include five (5) key on-going and parallel co-financing initiatives:
The Mangaia Power System Upgrade
The Rarotonga and Aitutaki Wind Power Development Project
The Pukapuka and Rakahanga Hybrid Projects
Biofuel Development Projects
The Schools Environment Awareness
Solar water heaters are well established and are found in nearly all the new housing and commercial buildings.
Solar photovoltaic installations for lighting, radio, water pumping, fish freezing and refrigeration are common in the outer islands but most have suffered from poor maintenance and post-installation support. On the other hand, Telecom has installed many PV generators, ranging from 600-7,800 peak watts (Wp) with excellent performance and high reliability due to the quality of installations and good maintenance, using well-trained staff.
A variety of wind power technologies have been installed in the Cook Islands, but have suffered from both inappropriate technical designs and the lack of expertise for post installation support.
Cook Islands continue to build its capacity to implement mitigation programs within government.  In 2011, a Renewable Energy Office was established under the Prime Minister's office; the former Energy Office remains under the ICI and now looks only at electrical standards. The Energy Division deals with energy planning and policy, but staff devote more time to electrical inspections than energy. The Director usually reports to two ministers, with ministerial responsibilities related to energy scattered over a number of ministries with overlapping mandates.
For  adaptation projects, please go to: (add link to projects database)
For more information, go to: www.sprep.org/piggarep Pacific Islands Greenhouse Gas Abatement Through Renewable Energy Project and Cook Islands 2012 Energy Profile, Reegle Clean Energy Search:
Date updated: March 2016
---
[1] The project is expected to bring about in the PICs: (1) Increased number of successful commercial RE applications; (2) Expanded market for RET applications; (3) Enhanced institutional capacity to design, implement and monitor RE projects; (4) Availability and accessibility of financing to existing and new RE projects; (5) Strengthened legal and regulatory structures in the energy and environmental sectors; and, (6) Increased awareness and knowledge on RE and RETs among key stakeholders.