Text
The Deutsche Gesellschaft für Internationale Zusammenarbeit (GIZ) and Secretariat of the Pacific Regional Environment Program (SPREP) partnership is further enhanced through the signing of a new financing agreement to strengthen the Pacific Climate Change Portal (PCCP).
Signed on 14 July, 2016 during the 19th Pacific Islands Roundtable for Nature Conservation Annual Meeting in Fiji, the agreement spans 12 months and will allow for the PCCP team to continue ongoing maintenance and update content update of the Pacific portal .
The PCCP team will work with the Pacific iCLIM project (https://www.griffith.edu.au/research/research-excellence/pacific-iclim) to provide support in linking national portals from Tonga, Vanuatu, and Fiji to the regional portal (http://www.pacificclimatechange.net/). 
Over the course of the year decision support tools will be developed to assist SPREP and countries in accessing climate finance, capacity building activities, maintaining current partnerships and engaging with organisations from outside the Pacific region such as the Caribbean Community Climate Change Centre (5Cs) and Asia Pacific Adaptation Network (APAN).
The financing agreement marks the third phase of the funding support from GIZ toward the Portal activities.   The first two phases implemented between 2012-2015 contributed to the development and improvements of the several significant features on the regional climate portal such as the projects database, country profiles, donor database, educational resources and support to the portal Advisory Committee. The climate portal underwent a redevelopment in April and launch in June of 2016.
"We acknowledge the continuous support from GIZ. This funding comes at a critical time for SPREP as we have just launched the upgraded climate Portal. The new funding will enable SPREP to continue to cater to the changing needs of Pacific users in area of climate change information management," said Dr Netatua Pelesikoti, Director Climate Change Division.
"We are excited about the new decision support tools that are currently in development as this envisaged to assist to SPREP members in the area of climate finance and support SPREP's role as the Regional Implementing Entity (RIE) to the Green Climate Fund (GCF) and the Adaptation Fund (AF)."
A two year secondment of a GIZ technical officer will be based at SPREP to work closely with the portal team starting in August this year.
The climate portal was established as a recommendation of the Pacific Islands Framework for Action on Climate Change. It is intended to be a hub for climate change information in the region and is the result of a partnership between SPREP, GIZ, Pacific Community (SPC), Pacific Islands Forum Secretariat (PIFS), United Nations Development Programme (UNDP) and Griffith University.
For more information please contact Makelesi Gonelevu ([email protected]).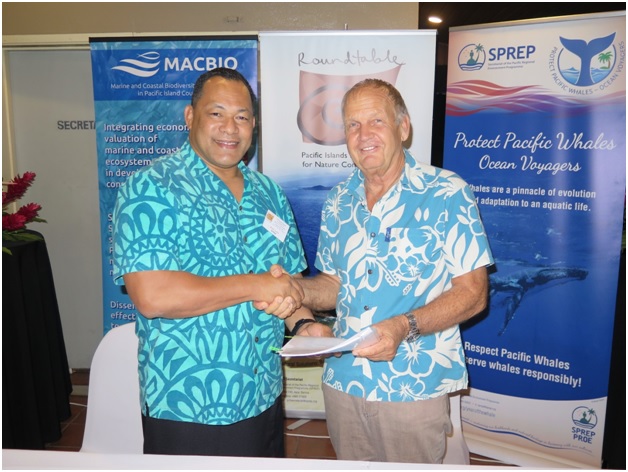 SPREP Director General Mr Kosi Latu and GIZ Program Director Dr Wulf Killmann at signing of agreement. Photo Credit: Payal Maharaj